Is a Patient Advocate Covered by Medicare and What Does a Patient Advocate Do?
Medicare advocates: Going to the doctor can be stressful at times, what with all of the medical jargon and the usually fast-paced environment. If you don't know where to start or what questions to ask after receiving a diagnosis or passing a test, getting more information and asking for the next steps might be tough.
Responsibilities in Common
Coverage under Medicare
Finding a Patient Advocate 
Finding a Patient Advocate 
Advocating for a Loved One 
Types of Patient Advocates
"What does a patient advocate do?"
"How do I go about finding one?"
"Can you tell me what services they offer?"
These are some of the questions you could have if you're trying to figure out if a patient advocate will be helpful in your circumstance.
Find Medicare Plans in 3 Easy Steps
We can help find the right Medicare plans for you today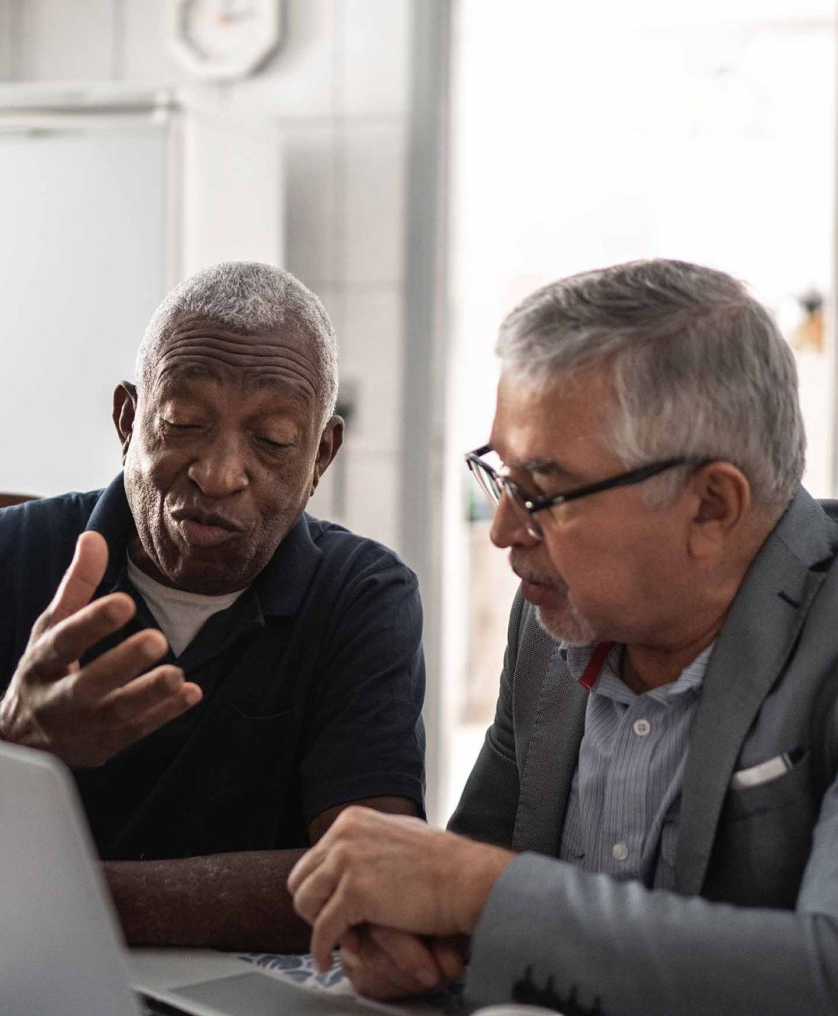 What Is the Role of a Patient Advocate?
A patient advocate is someone who helps and advises people with medical issues. On a regular basis, patient advocates assist those who have a specific ailment or need. In reality, the vast majority of private patient advocacy organizations assist people who are suffering from a chronic illness or are facing a life-threatening situation.
A patient advocate is also referred to as:
Advocate for medical care
Health Activist
Liaison with patients
Representative of the patient
Advocate for the consumer
If you have past medical experience, you might choose to have a trusted family member or close friend act as your liaison. Make sure you weigh the advantages and disadvantages before embarking on this route.
Responsibilities of a Patient Advocate
When you have a variety of titles and work locations, it might be difficult to determine whether or not you require the services of an advocate. So, what precisely is the duty of a patient advocate?
Patient liaison responsibilities differ depending on the company and specialized field of medicine.
In addition to improving communication between patients, medical practitioners, and family members, patient advocate services can include the following:
Identifying care issues
Referring to health care professionals
Conflict resolution
Crisis management
Patient rights support
Assistance in finding financial resources
Help setting up doctor appointments
Medical advising
Legal help
Reading and understanding medical charts and documents
While some hospitals and insurance providers have in-house patient advocates, you may want to engage a private third party to perform this function. Because each advocate may provide various services and products, it's crucial to figure out what you need before selecting one.
Does Medicare Cover Patient Advocacy?
Private patient advocates are self-funded. Medicare, on the other hand, has its own Medicare Beneficiary Ombudsman who can help you resolve concerns and give you with useful information so you may make the best health-care decisions possible.
Contact your state's State Health Insurance Support Program for advocacy and assistance (SHIP). According to the Centers for Medicare and Medicaid Services, SHIP provides free health insurance guidance for those with Medicare benefits.
Types of Patient Advocates
Patient liaisons come in a variety of types. Some advocates specialize in advising in a specific context, while others specialize in advocating for specific forms of insurance. Patient advocates come in a variety of forms, including hospital patient advocates, independent patient advocates, and Medicare advocates.
The most significant distinction between these advocates is their allegiance. Hospital advocates are usually engaged by the risk management department of a facility, and as a result, they are constrained by the hospital's policies. An independent advocate represents you, but a Medicare advocate frequently represents Medicare or the state.
Advocacy might also be provided by family members. In certain circumstances, having a close family member function as your representative as well as another form of advocate may be advantageous. They can collaborate to ensure that you receive the best possible care.
How To Find a Medical Advocate
It's possible that your insurance company or the hospital where you're being treated have their own patient advocates. These advocates are frequently free, so proceed with caution.
When you're already paying high healthcare expenditures, it might be tempting to choose a "free" hospital or insurance advocate. However, some advocates who work for hospitals or insurance firms may be biased toward their employer, but this is not always the case. This may result in you having an advocate who represents the hospital or insurance company's interests rather than yours.
How can you discover a patient advocate who fulfills your requirements with only roughly 75,000 patient advocates in the United States?
You can start by looking for different patient advocate companies or organizations, such as:
If you haven't been able to locate a patient advocate in your area, simply Google "patient advocate" and include your desired location.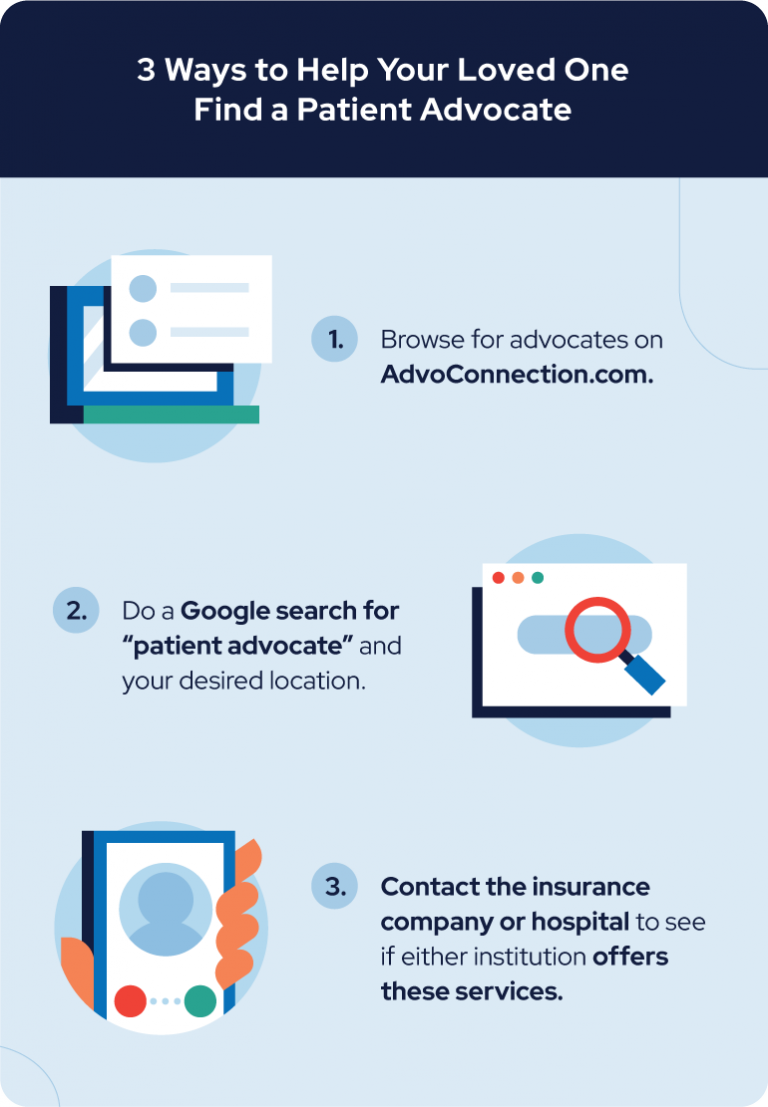 Patient Advocate Interview Questions
Many advocates also get other sorts of training or college degrees in various fields. As a result, before picking a patient liaison to fight for something as essential as your health, you should learn everything you can about different patient liaisons.
Despite the fact that there is no specialized degree program for patient advocates, the majority have a higher education than a high school certificate. Indeed, according to Zippia research, 79 percent of health advocates had a bachelor's degree or more.
By asking the appropriate questions, you'll be able to select a private patient advocate who's perfect for you.
Potential patient advocate interview questions you can ask include:
How do you deal with tense situations?
Have you ever dealt with a case like this before?
What qualifications do you have?
What is your fee structure?
What are the normal hours of your workday?
What other experiences have you had that have prepared you for my particular case?
What would you do if you were faced with an ethical dilemma?
Make sure you thoroughly describe your situation and the sort of support you want. This can assist the advocates you interview get to know you better and demonstrate how their previous experiences have equipped them to handle your case.
Advocating for a Loved One
If your loved one wants you to act as their advocate, you should be mindful of the emotional toll it might have on you. According to research published in the Journal of Clinical Oncology, 50 percent of patient advocates are weary and 40 percent are upset as a result of their advocacy efforts.
Being a patient advocate has other advantages, according to the same poll, such as a sense of pleasure and empowerment.
If you've been asked to advocate for a loved one, here are some pointers to get you started:Ask lots of questions
Make a list of everything.
Pay close attention to what the doctors and nurses say.
Recognize and convey your loved one's wants.
Take some time to pamper yourself.
Advocating for a family member or friend may be difficult and time-consuming. It may, however, be lucrative.
Preventing Burnout When Advocating for a Loved One
At some point, many patient advocates get exhausted. Without rest or time to recuperate, exhaustion can soon turn into burnout, making it impossible to fight for your loved one.
Schedule time to rest and relax to avoid burnout. If you're too preoccupied, try enlisting the help of a trustworthy friend or family member for a day or two so you may rest physically, emotionally, and psychologically.
Burnout symptoms might also occur if your body does not receive adequate nourishment. Caring for a loved one can take up a lot of time, making it easy to forget to eat or drink enough water. Getting the correct quantity of nutrients and water, on the other hand, can help you avoid burnout by improving both your physical and mental endurance.
Now that you don't have to wonder, "What does a patient advocate do?" you can focus on choosing one who is right for you. If you're still not sure if hiring a patient advocate is the correct decision for you, speak with a professional who can advise you. You might also want to consult with trusted family members and friends to receive their input and advice.
Find Medicare Plans in 3 Easy Steps
We can help find the right Medicare plans for you today
Who is the best person to talk to about Medicare?
If you still need help after calling 1-800-MEDICARE (1-800-633-4227; TTY: 1-877-486-2048) with a Medicare-related question or complaint, ask the 1-800-MEDICARE person to forward your question or complaint to the Medicare Ombudsman's Office.
How can Medicare problems be resolved?
The best resource for resolving plan-related challenges is your plan. Call 1-800-MEDICARE for more information. Call 1-800-633-4227, or 1-877-486-2048 for TTY users. If you have a question about Original Medicare or if your plan hasn't been able to help you, call 1-800-MEDICARE for assistance.
What is Medicare ombudsman?
The Medicare Beneficiary Ombudsman can assist you with Medicare-related complaints, grievances, and information requests. They make certain that the following information is provided to assist you: Make the best health-care decisions for you. Make sure you're aware of your Medicare rights and protections. Resolve your Medicare concerns.
How can I get Medicare Part B waiver?
You can voluntarily end your Medicare Part B coverage (medical insurance). However, because this is a major decision, you may need to meet with someone in person. Form CMS 1763 will be completed with the assistance of a Social Security representative. 24 November 2021
What phone number is 800 633 4227?
What is the 800 633 4227 phone number?
1-800-MEDICAL-AID (1-800-MEDICARE) (1-800-633-4227)
Log into your secure Medicare account or call 1-800-MEDICARE with specific billing problems or inquiries regarding your claims, medical records, or spending.
How do I speak to a person at Medicare?
Call 1-800-MEDICARE for more information.
Log into (or establish) your protected Medicare account for inquiries regarding your claims or other personal Medicare information, or call us at 1-800-MEDICARE (1-800-633-4227). For TTY users, dial 1-877-486-2048.
What are the disadvantages of Medicare?
Medicare Advantage's Drawbacks
Restrictive policies may limit the services and medical providers that are covered.
Copays, deductibles, and other out-of-pocket expenses may be greater.
The Part B deductible must be paid by the beneficiaries.
Health-care costs aren't usually obvious upfront.
The types of plans that are available vary by location.
How do I write a Medicare appeal letter?
Include this information in your written request:
Your name, address, and Medicare number from your Medicare card
The things or services for which you're asking for a rethink, as well as the dates of service and the reason(s) for your appeal.
What happens to beneficiaries with old supplement plans sold before 2010?
They are spared from harm. A Medigap Plan is guaranteed renewal for as long as you desire it and as long as you pay the premiums.
What is the role of patient advocate?
A patient advocate assists people in communicating with their healthcare professionals so that they can obtain the information they need to make healthcare decisions. Patient advocates can also help patients schedule doctor appointments and medical tests, as well as obtain financial, legal, and social support.